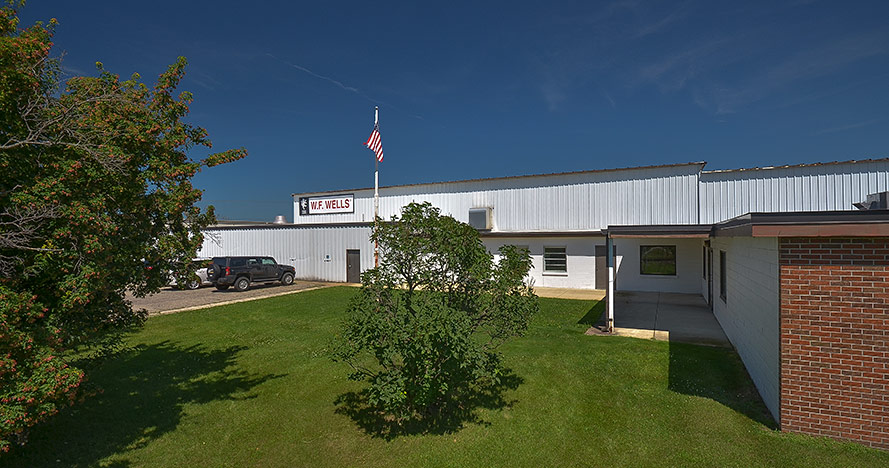 W.F. Wells, Inc is unique in the U.S. machine tool industry in that it has continued to manufacture its products in the U.S.A. while so many others are importing what they sell. W.F. Wells, Inc provides bandsaws that handle the requirements of the metal cutting industry but also non-ferrous products such as glass, ceramics, graphite, crystals and wooden products. It is this versatility that has allowed us to expand in an ever-changing market.
Brief History
Mr. William F. Wells (Bill) moved to Three Rivers, Michigan in 1925 and formed Wells Manufacturing, a manufacturer of vertical meat cutting saws. In 1928, Wells Manufacturing developed the horizontal metal cutting bandsaw branded the Wells Model #4. He later introduced the Wells Model #8, which is still in production today, known as the Wellsaw Model #1016. Bill Wells sold his interest in Wells Manufacturing (now recognized as Wellsaw) and in 1948 formed W.F. Wells & Sons. The first saw model, M-9, was produced in 1949 and the company continued to produce, expand and refine their product line for the next 42 years.
In May of 1991, Mr. Robert F. Boyle, the owner of Wellsaw, purchased W.F. Wells & Sons from the Wells family. The company was renamed W.F. Wells, Inc. and has continued to grow and add to its ever expanding product line.
The Model M-9
The Model M-9 is the first bandsawing machine manufactured and marketed by William F. Wells under the name "W.F. Wells and Sons" after the present company was founded in 1948.
This Machine (the first one built of this model) was sold in 1949 for $500. After 28 years in service, it was traded in for another new machine.
The present model W-9 has evolved from this original model M-9, and remains today the only twin-post, true horizontal bandsaw with hydraulic feed in the price range.
Many of the wearing parts such as bearings, vises, wheels, guides and clamps are still interchangeable. This permits fast service and field repair for all older machines still in service.